FTZ Resource Center Construction Begins
Posted on Oct 14, 2013 in News
For Immediate Release: October 14, 2013
DBEDT News Release 13-08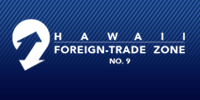 HONOLULU—The State of Hawaii Department of Business, Economic Development and Tourism (DBEDT) today announced that it has begun construction of its new Import Export Trade Resource Center wing at The Hawaii Foreign-Trade Zone #9 on Pier 2.
This $10.5 million building renovation is funded in part by a grant from the U.S. Department of Commerce Economic Development Administration and the State of Hawaii, and will add 30,000 square feet of office, shared work, and conference center space to support import/export-related businesses and maritime operations. The renovation project is scheduled to be completed in 12 months and will significantly add to the growing international trade resources of The Hawaii Foreign-Trade Zone #9.
"The Import Export Trade Resource Center has been 8 years in the making and we are excited the project is underway," said Hawaii Foreign-Trade Zone's Acting Administrator David Sikkink. "The center will allow us to offer additional services, support, and training to businesses that are involved in import/export or that support maritime operations."
Architecture and design services were provided by architect Lou Chan and Associates, with Bowers and Kubota providing construction management and Kiewit Building Group as general contractor.
The Hawaii Foreign-Trade Zone #9, located at Pier 2 in Honolulu Harbor, is a division of DBEDT and supports the expansion of import/export and manufacturing in Hawaii, as well as the Islands' maritime industry. The Foreign-Trade Zone strives to support the advancement of business opportunities in Hawaii through public-private collaboration.
# # #
Media Contact:
David Sikkink
FTZ Administrator
Phone: (808) 587-5372
Dave Young
DBEDT Information Specialist
PHone (808) 586-2480