HCDA Parks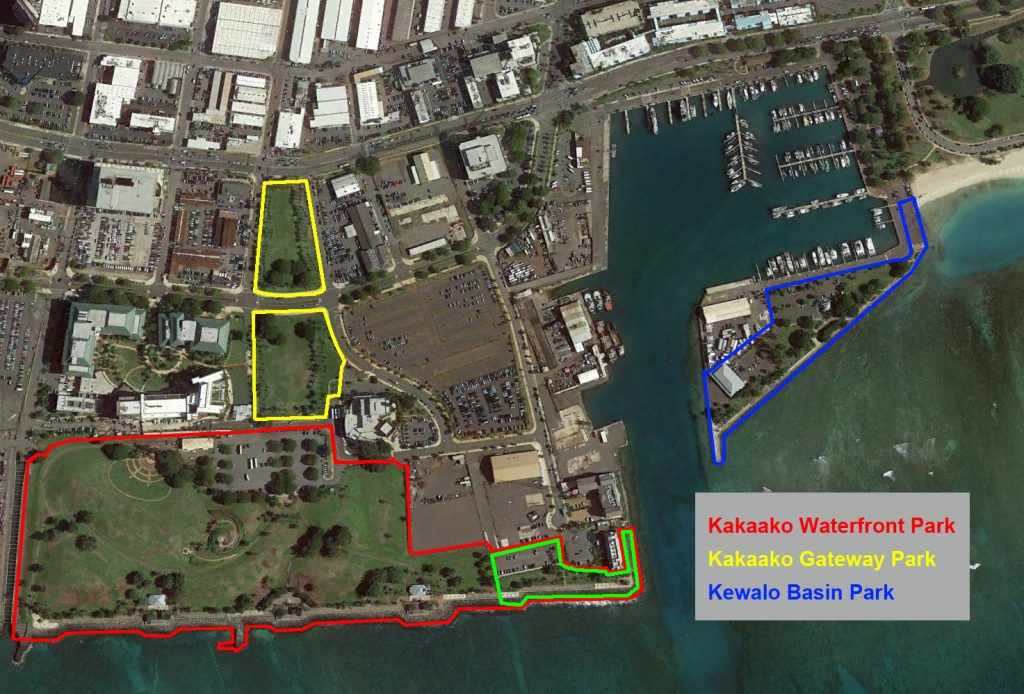 Parks and open spaces
Parks can provide sustainable, family-friendly outdoor gathering places, that encourage lively uses and quality outdoor experiences.
Since its creation in 1976, the HCDA has developed about 46 acres of park land in the Kakaʻako District, including Kakaʻako Waterfront Park, Kakaʻako Gateway Parks, Kewalo Basin Park and Kolowalu Parks, as well as other pocket parks in the district.
Daily Park hours: 6:00 a.m. – 10:00 p.m.
Public may only use the park during above hours.
Park is closed between 10:00 p.m. and 6:00 a.m.
Parking lot is for park patrons only.
Cars left in the parking lot by non-park patrons or between 10:00 p.m. and 6:00 a.m. will be towed at owner's expense.
The following are Prohibited Without Permit by Hawaiʻi Administrative Rules §15-210.
Alcoholic beverages
Stakes, anchors, spikes or other objects that puncture the ground
Soliciting
Feeding feral animals
Vehicles on grass
Motorized toys and unlicensed motorized vehicles
Shopping carts
Special, commercial and group use
Other rules (Refer to Hawaiʻi Administrative Rules §15-210 for all rules.)
No camping
No firearms
No golfing or archery
No washing, waxing or repairing vehicles
No open fires
No littering or dumping
Keep pets on leash or caged at all times
No lifeguard on duty. Swim at your own risk.
General-Park-Use-Guidelines-4.5.13