Whitmore Community Food Hub Project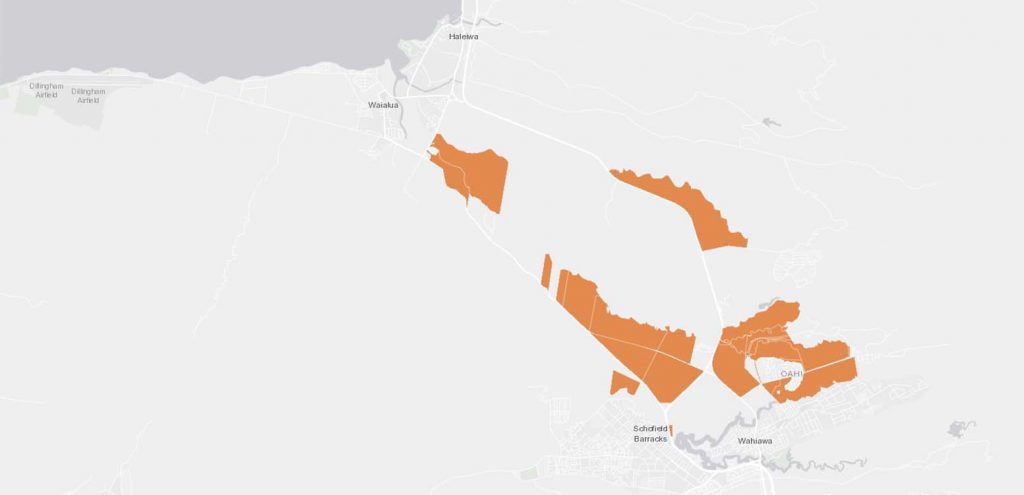 The Whitmore Community Food Hub Project encompasses all ADC activities to revitalize agriculture in the Wahiawa area and will provide the following solutions:
Agriculture-Technology Park to house software and manufacturing companies that develop technology and equipment for farmers.
Agriculture land to be available where farmers could obtain long-term leases to invest in their company.
Rent credits to be considered for farmers per agreements with ADC.
A centralized location to decrease costs, time of transportation, and shipping.
Existing facilities to be retrofitted to comply with the handling, preparation, and storage regulations.
Arable land to be converted into active land and achieve scale and diversity of products.
Co-op opportunities to leverage the high cost of equipment and supplies.
Workforce housing to be developed to encourage farm labor participation.
Public-private partnerships to be explored to incentivize participation in agricultural development.
| | | |
| --- | --- | --- |
| Subject or Document | Type | Link |
| Final Environmental Assessment — FONSI (May 2019) | pdf* | FEA |
| "Food Hubs and Rebuilding Missing Middle Market Structure in Agriculture: The Social in Supply Chain Development" (June 2021) | pdf* | Article |
| Whitmore Community Food Hub Project Storyboard | html* | Website |
| Request for Information (October 2021) | pdf | Request |
| Webinar — High Pressure Processing (October 2021) | pdf | Notice |
| Virtual Community Presentation (Thursday, November 4, 2021) | html | Notice |
| Community Open House Walk-Thru, Friday (November 19, 2021) | pdf | Flyer |
| "Preliminary Summary for High Pressure Processing (HPP) in Hawaii" (April 2022) | pdf* | Report |
| Community Open House Walk-Thru (Wednesday, June 8, 2022) | pdf | Flyer |
| Request for Proposal: Whitmore High Pressure Processing Machine & Agricultural Faclilities | html* | HANDS |