ĀLIA – Block I
Posted on May 24, 2022 in Main
ĀLIA – BLOCK I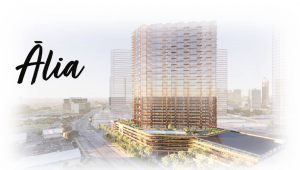 July 6, 2022 at 9:00 a.m. (Presentation Hearing)
Alia Presentation Hearing Staff Report with Exhibits
July 7, 2022 at 9:00 a.m. (Modification Hearing)
Modification Hearing Staff Report with Exhibit
September 7, 2022 at 9:00 a.m. (Decision-Making Hearing)
PLACE: Hearings will be convened virtually and in-person (See the Public Hearing Notice for details)
The Kobayashi Group LLC is proposing to build a mixed-use commercial and residential development, consisting of a 39-story tower with approximately 443 market rate condominium units and 40 reserved housing units, plus residential amenity space, parking, and approximately 3,668 square feet of retail space. The project will be located on the site known as Block I in the Kamehameha Schools Kaiaulu 'o Kaka'ako Master Plan (KKMP). The project is bordered by Ala Moana Boulevard, Koula and Auahi Streets, and the adjoining property where the former Bank of Hawaii stood on the corner of Ward Avenue and Ala Moana Boulevard.
PLANNED DEVELOPMENT PERMIT APPLICATION, APPENDIX, AND EXHIBITS:
Alia – Block I Application 051822
Appendix 1.1_Archaeological Inventory Survey_Block I
Appendix 1.2_Archaeological Monitoring Plan_Block I
Appendix 1.3_Archaeological Data Recovery Plan_Block I
Appendix 1.4_Archaeological Preservation Plan_Block I
Appendix 1.5_Burial Site Component of ADRPP_Block I
Appendix 2_Architectural Survey_Block I
Appendix 3_Traffic Impact Report_Block I
Appendix 4_Environmental Noise Study_Block I
Appendix 5.1_Cladding Wind Load Study_Block I
Appendix 5.2_Pedestrian Wind Study_Block I
SHPD Acceptance Letter_21 Nov 2014
Witness List
Exhibit List
Exhibit 1 Matthew Pennaz Testimony Summary
Exhibit 2 Matthew Pennaz Resume
Exhibit 3 Adam Woltag Testimony Summary
Exhibit 4 Adam Woltag CV
Exhibit 5 Images to Supplement A Woltog Testimony
Exhibit 6 Cathy Leong Testimony Summary
Exhibit 7 Cathy Leong PE Resume
Exhibit 8 Benedict Lee Testimony Summary
Exhibit 9 Benedict Lee Resume
Exhibit 10 Jay Stone Testimony Summary
Exhibit 11 Jay Stone CV
Exhibit 12 BWS Letter dated June 7, 2022
Exhibit 13 Matt McDermott Testimony Summary
Exhibit 14 Matt McDermott Resume
Exhibit 15 Certification of Notice Ālia – Block I
Exhibit 16 Memorandum of Options, Purchase and Sale Agreement
PUBLIC TESTIMONY
Public Testimony – Received by 9 a.m. July 5, 2022
Public Testimony – Received on September 7, 2022
Testimony deadline is 9:00 a.m. the day before the respective hearing.