Kaiaulu o Kakaako Master Plan Amendments
Posted on Feb 19, 2021 in Main
Proposed Kaiaulu o Kakaako Master Plan Amendments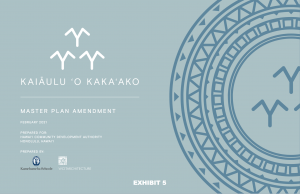 April 7, 2021 (Presentation Hearing) 11 a.m.
HCDA Staff Report – 2021 KKMP Amendment
KS Witness List 04.07.2021 Hearing
Serge Krivatsy Supplemental Declaration
Nathaniel Kinney Declaration
Paul H. Brewbaker, Ph.D. Declaration
Rob Iopa Declaration
Department of Transportation Agency Comment
Honolulu Fire Department Agency Comment
June 2, 2021 (Decision-Making Hearing) 11 a.m.
Place: Hearings will be convened virtually (See the Public Hearing Notice for details)
Kamehameha Schools is requesting to amend Master Plan Permit No. PL MASP 13.2.8, adopted on September 2, 2009, and previously amended on August 8, 2012. The Application includes the following proposed amendments:
A. Extend the effective period of the Kaiaulu o Kakaako Master Plan (KKMP);
B. Combine Block F and G, transfer tower from Block F to Block D, and confirm future flexibility in the transfer of towers and density between land blocks;
C. Allow for projects to be developed pursuant to HRS chapter 201H under the KKMP;
D. Increase the maximum permitted floor area to account for the addition of Koula Street; and
E. Allow for flexibility in the number and type of dwellings while adhering to the maximum floor area ratio (3.5) approved under the KKMP.
AMENDMENT APPLICATION AND APPENDICES:
KS Petition for Amendment of the Master Plan Permit
Exhibit 1 FoF CoL D&O Master Plan Permit (2009-09-02)
Exhibit 2 Development Agreement (2009-10-06)
Exhibit 3 Supplement No. 1 to Master Plan Development Agreement (2011-06-20)
Exhibit 4 2012 Amendment (2012-08-08)
Exhibit 5 Proposed KKMP Amendment
Exhibit 6 2009 KKMP
Exhibit 7 Ward Neighborhood Master Plan (excerpts)
Exhibit 8 TMK Koula St
Exhibit 9 Reso20-050
Exhibits 10 Portion of Koula Street Land Survey
Exhibits 11 Title Guaranty Preliminary Report
Exhibits 12 Kakaako Mauka Area Roads
Exhibits 13 Paul H. Brewbaker
Exhibit List -KKMP 2021 Amendment
Public Comments and Testimony
KKMP Testimony March 31, 2021 – April 6, 2021
KKMP Testimony Received April 6, 2021 – April 7, 2021
Testimony deadline is 12:00 p.m. the day before the respective hearing.