Gentry Kalaeloa LLC Ka'ulu Residential Community
Posted on Oct 29, 2021 in Main
Gentry Kalaeloa LLC

Ka'ulu Residential Community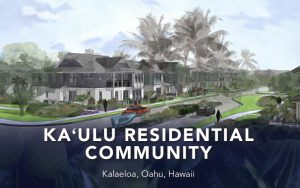 December 1, 2021 at 9:00 a.m. (Presentation Hearing)
Presentation Hearing Staff Report
Exhibit B Staff Report
February 2, 2022 at 9:00 a.m. (Decision-Making Hearing)
PLACE: Hearings will be convened virtually (See the Public Hearing Notice for details)
Gentry Kalaeloa LLC, the applicant is proposing to build an approximately 390-unit residential project consisting of approximately 262 multi-family attached units and approximately 128 single-family detached units ("Project") on an approximately 29.8-acre lot located at the southeast corner of Kamokila Boulevard Extension and FDR. The Project consists of 547,500 square feet ("sq. ft.") of residential floor area, 298,297 sq. ft. of open space, 113,526 sq. ft. of recreational space with amenities, and a total of 936 off-street parking stalls in addition to loading and bicycle parking in the Kalaeloa Community Development District.
PLANNED DEVELOPMENT PERMIT APPLICATION AND EXHIBITS:
Kaulu Residential Community Application
EXHBIT 1
EXHIBIT 2 Certification of Notification Pursuant
EXHIBIT 3 Quentin Machida Direct Testimony
EXHIBIT 4 Tom Schnell Direct Testimony
EXHIBIT 5 Tom Schnell AICP Resume
EXHIBIT 6 John Shaw Direct Testimony
EXHIBIT 7 John Shaw Resume
EXHIBIT 8 Sohrab Rashid Direct Testimony
EXHIBIT 9 Sohrab Rashid Resume
EXHIBIT 10 Brent Nakaoka Direct Testimony
EXHIBIT 11 Brent Nakaoka Resume|
EXHIBIT 12 Austin Van Heusen Direct Testimony
EXHIBIT 13 Austin Van Heusen Resume
EXHIBIT 14 Christopher M. Monahan Ph.D. Direct Testimony
EXHIBIT 15 Christopher Monahan, Ph.D. Resume
EXHIBIT 16 Presentation Hearing Slides Set No. 1
Gentry Kalaeloa LLC Exhibit List
Gentry Kalaeloa LLC Witness List
PUBLIC TESTIMONY
Public Testimony – Gentry KAL 21-005 received by noon Nov 30, 2021.
Public Testimony – Gentry KAL 21-005 12.1.21 (after deadline)
Testimony deadline is 12:00 p.m. the day before the respective hearing.