Ulana Ward Village
Posted on Jan 15, 2021 in Main
ULANA WARD VILLAGE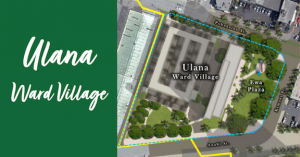 March 3, 2021 (Presentation Hearing) 11a.m.
March 10, 2021 (Modification Request Hearing) 10a.m.
May 5, 2021 (Decision-Making Hearing) 11a.m.
Place: Hearings will be convened virtually (See the Public Hearing Notice for details)
Transcripts
March 3, 2021 Presentation Hearing
PLANNED DEVELOPMENT PERMIT APPLICATION AND APPENDICES:
Ulana Ward Village permit application
Ulana Appendix A
Ulana Appendix B
Ulana Appendix C
Ulana Appendix D
Ulana Appendix E
Ulana Appendix F
Ulana Appendix G
Ward Neighborhood Master Plan
Ward Neighborhood Master Plan
Ward Master Plan Addendum 1
Ward Master Plan Addendum 2
Public Comments and Testimony
Public Testimony received before February 25
ULANA TESTIMONY February 25 – March 2
TESTIMONY March 2 – March 9 ULANA
Additional TESTIMONY received March 9 – March 10
Public Testimonies received March 10 – May 4, 2021
Testimony deadline is 12:00 p.m. the day before the respective hearing.