Report Assesses the Feasibility and Implications of Managed Retreat from Coastal Areas in Hawaii
Posted on Feb 19, 2019 in News
Office of Planning
For Immediate Release: February 19, 2019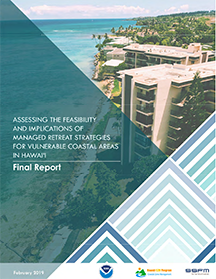 HONOLULU—The Office of Planning's Coastal Zone Management Program (OP-CZM) announces the release of its final report: Assessing the Feasibility and Implications of Managed Retreat Strategies for Vulnerable Coastal Areas in Hawaii (Managed Retreat Report).
Managed retreat involves shifting development inland from the coast either by the physical movement of structures or changing the restrictions and management of Hawaii's coastal areas. Managed retreat is one adaptation strategy to climate change that Hawaii may need to consider along with other types of adaptation strategies such as accommodation, e.g., the elevating of homes, and protection, e.g., hardening or beach restoration projects.
The OP-CZM Managed Retreat project examined managed retreat programs in other areas that were successfully implemented in post-catastrophic events and episodes of chronic coastal erosion. The project reviewed if and how their programs may be applied to Hawaii. The Managed Retreat Report is a result of in-depth background literature review, outreach with stakeholders, such as government agencies, NGOs, impacted communities and individuals, and a daylong symposium with subject matter experts from the Mainland and Hawaii. The report is available here

"Managed retreat is complex to implement and given Hawaii's exposure to both chronic and potentially catastrophic coastal hazards, we felt it was important to at least start a discussion to better understand what it could mean in Hawaii," said Justine Nihipali, CZM Program Manager. "The Managed Retreat Report is a first-cut at a realistic analysis of the challenges and opportunities associated with managed retreat and considerations that must be examined if retreat is to be pursued in Hawaii," she said.
The Managed Retreat Report identifies several key findings, including:
Managed retreat analysis is complex and crosses many disciplines and agencies – such as science, law, land use policy, economics, and requires consideration of many stakeholder interests;
Implementation of managed retreat for public infrastructure may entail a long process that requires strong commitment;
Utilizing taxpayer funds to retreat privately owned residential structures may not be perceived as the best use of limited resources; and
It is prudent to further understand the implications and feasibility of managed retreat among the other adaptation strategies to climate change and sea level rise.
This project is the result of an implementing action of the Hawaii Ocean Resources Management Plan (ORMP) through an action team that focuses on Appropriate Coastal Development & Management of Coastal Hazards and was funded through a partnership with the National Oceanic and Atmospheric Association (NOAA). The OP-CZM is committed to furthering the managed retreat analysis within the ORMP framework.
For more information about the project, contact the state's Office of Planning at (808) 587-2846.
About the State Office of Planning
The Office of Planning is a state agency, attached to the Department of Business, Economic Development and Tourism (DBEDT), that gathers, analyzes and provides information to the governor to assist in the overall analysis and formulation of state policies and strategies. Its purpose is to: (1) provide central direction and cohesion in the allocation of resources and effectuation of state activities and programs; and (2) effectively address current or emerging issues and opportunities. The office works closely with local, state and federal government agencies; the University of Hawaii; and various community stakeholders to achieve these objectives.
# # #
Media Contact:
Justine Nihipali
Office of Planning
Department of Business, Economic Development and Tourism
Phone: (808) 587-2846
Website: planning.hawaii.gov