About Kalaeloa
The Kalaeloa District
The Kalaeloa Community Development District (Kalaeloa) encompasses approximately 3,695 acres of land within the former Barbers Point Naval Air Station (BPNAS) in Leeward Oahu.  Kalaeloa is bounded by the Pacific Ocean and the lands within Roosevelt, West Perimeter, East Hansen, and Essex Roads as well as four parcels within Campbell Industrial Park.
The lands within Kalaeloa are presently owned by various Federal, State, and County agencies.  In 1993, the U.S. Department of Defense, through the Base Realignment and Closure (BRAC) process, designated the BPNAS for closure.  As part of the closure process, roughly 1,050 acres were retained by the Navy, 472 acres were declared as excess and transferred to other Federal agencies and the remaining 2,165 acres were declared as surplus, making them available for conveyance to State and local government agencies.  Of the land retained by the Navy, approximately 675 acres have been set aside for transfer or brokered sale to support the development at Ford Island in Pearl Harbor.
In March 1997, the State of Hawaii BPNAS Redevelopment Commission (BPNAS-RC) adopted a Community Reuse Plan which identified various State and County government agencies as receiving entities for the surplus land.  The Reuse Plan, with its subsequent amendments in 1998 and 2000, has served as the primary guidance document in the conveyance of surplus lands.  Since the formal closure of the BPNAS as an active naval installation in July 1999, approximately two-thirds of the surplus lands have been conveyed to the respective end users.
In June 2002, then Governor Benjamin Cayetano signed into law Senate Bill 2702 (becoming  Act 184) which repealed HRS 206G and transferred responsibility for Kalaeloa from the BPNAS-RC to HCDA.  Pursuant to Act 184 of the 2002 Hawaii State Legislature, effective July 1, 2002, HCDA assumed the responsibility for implementation of the Community Redevelopment Plan, overseeing remaining conveyances, contract administration, promulgation of administrative rules, and other responsibilities relating to the former BPNAS-RC.  Act 184 also expanded the designation of the Kalaeloa Community Development District to encompass all of the land within the former BPNAS, including land retained by the Navy and land conveyed to other Federal agencies.  Act 184 further transferred the Kalaeloa Community Development Revolving Fund to HCDA and authorized HCDA to assess non-federal land users for a proportionate share of its staff and operating costs for Kalaeloa.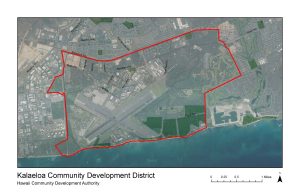 Land Development and Conveyance Status
Over recent years, land development and conveyances were limited to only several parcels in Kalaeloa.  Meanwhile, the rest of the land in Kalaeloa remained virtually unchanged from previous years with landownership divided amongst various Federal, State and County agencies.  Development activity on government-owned land in Kalaeloa was limited to improvements of the Kalaeloa Airport, Barbers Point Golf Course and Hawaii National Guard properties.
The State of Hawaii, Department of Hawaiian Home Lands (DHHL) was the only land owner in Kalaeloa to issue short-term leases for commercial and industrial-related activities.  Other Kalaeloa landowners, such as the U.S. Veterans Administration and the Housing and Community Development Corporation of Hawaii had pre-existing agreements with various organizations to assist in homeless and social support services for their respective communities.  Nearly 1,150 acres (31% of Kalaeloa) are either pending conveyance to a specific State or County agency or unallocated.
The relative absence of development and conveyances was due, in large part, to the potential homeporting of an aircraft carrier strike group at Pearl Harbor and the possibility of stationing the aircraft carrier's air wing at Kalaeloa.  Land owners, including the U.S. Navy, were waiting on this decision and therefore reluctant to convey or lease land in the fear that it would foreclose on the future needs of an aircraft carrier air wing.
Despite this pending decision, other major land owners and users in Kalaeloa such as the Barbers Point Elementary School, the U.S. Coast Guard Search and Rescue Station, the Honolulu Board of Water Supply Desalination Facility, and Hawaii National Guard Youth Challenge Program have continued their activities and public access to Kalaeloa's beaches and use of various park facilities under license to the City and County of Honolulu are being maintained.
Over the past two years, HCDA was active on four major activities related to Kalaeloa:  1) the completion of a 5-year Kalaeloa Strategic Plan; 2) implementation of a Master Plan for Kalaeloa; 3) the demolition of the former Guard Shack at the Fort Barrette Gate;  and 4) increased government and community consultation regarding Kalaeloa.
Kalaeloa Strategic Plan
In September 2004, HCDA discussed the need for establishing a vision and direction for Kalaeloa and agreed on the preparation of a Strategic Plan.  HCDA identified specific core values and guiding principles that would be used to anchor a vision for Kalaeloa and define HCDA's mission and near-term objectives in reaching the vision.  A draft Kalaeloa Strategic Plan was completed in March 2005 and meetings and workshops were held with government officials, stakeholders and the community to receive input.  Additional postings on the HCDA website, news stories in the local media announced the meetings and provided content on the Strategic Plan.  Throughout this process, nearly 100 people participated and contributed to the formulation of the Kalaeloa Strategic Plan. HCDA integrated the comments received, and in May 2005, the Authority formally adopted the Kalaeloa Strategic Plan that envisioned Kalaeloa as a "Center for Excellence" or Wahi Ho'okela within the Ewa District of Oahu.  This vision is founded on core values aimed at striving for excellence in multiple disciplines, respect for the past and environment, creating social and economic value, and the necessity for community involvement.  Therefore, Kalaeloa is seen as becoming a center for Hawaii's people to share knowledge, develop expertise, and advance themselves while remaining respectful of past and place. Through this pursuit of excellence, Kalaeloa is striving to become a model for achievement to surrounding communities, the islands of Hawaii, and the world.
HCDA realizes that fulfillment of the vision for Kalaeloa is not a simple task nor will it be accomplished within a period of months or even a few years.  The redevelopment of Kalaeloa is an extraordinarily complex undertaking that will occur over the course of a generation or more.  Throughout this time, many events will happen that may affect the redevelopment in terms of market demand, economic cycles, governance policy and timing.  Nonetheless, it is important however, that through these events, the vision established in the Kalaeloa Strategic Plan and the core values that it is founded upon remain constant.
The Kalaeloa Strategic Plan also established a mission statement for HCDA to lead a sustained, long-term public/private commitment for the realization of Kalaeloa as a Center for Excellence through partnerships, planning, advocacy, and stewardship.  Through these four concepts, a list of near-term priority actions and timeline have been developed.
Noted among the near-term priority actions in the Kalaeloa Strategic Plan is the review and updating of the Community Redevelopment Plan to reflect current conditions, core values, and vision for Kalaeloa.  The existing Community Redevelopment Plan represents more of a landownership plan to support the conveyance of surplus land from the U.S. Navy and did not fully serve as a community master plan addressing economic anchors, property tax revenue stream and infrastructure needs necessary to create a sustainable tax base.  Further, conditions in and around Kalaeloa have changed since the former BPNAS closed and many of the planning assumptions contained in the existing Community Redevelopment Plan are no longer valid.  In order to address these changes in conditions, HCDA  issued a Request for Proposals for the preparation of a Kalaeloa Master Plan in January 2005.  The contract involved the completion of four tasks: a status report, regional economic analysis, master plan, and aircraft carrier assessment.
The status report is intended to document past and current conditions/activities in and around Kalaeloa to provide the background support for the Master Plan.  Information in the status report includes, among other things, a discussion of: infrastructure, land conveyances, cultural and natural resources and environmental conditions.
A regional economic analysis was considered necessary to evaluate the market potential and feasibility of specific uses within Kalaeloa and recommend an optimum economic development scenario consisting of the most appropriate uses.  The regional economic analysis highlights and describes feasible and realistic "economic engines" that can be developed in a manner supportive of the vision for Kalaeloa.
By integrating the status report and regional economic analysis, as well as the policies and guidance set forth in the Kalaeloa Strategic Plan, a comprehesive Kalaeloa Master Plan was developed that articulates optimum land use relationships, site physical characteristics, vehicular and pedestrian circulation, basic infrastructure improvements, open space, design guidelines, and HCDA policy directions.  The Kalaeloa Master Plan also includes development phasing recommendations that contain a feasible and realistic financial projection of expenditures and revenue streams that balances profitable development with land availability over time.
The aircraft carrier strike group (CSG) assessment reviewed the Federal decision-making process for the CSG, defined the anticipated functional needs of the U.S. Navy in Kalaeloa should a CSG be stationed at Pearl Harbor; the likely areas where such functions would be implemented; and the expected timeframe or schedule in which military re-use of Kalaeloa could occur.  With this information it is intended that impacts on the Kalaeloa Master Plan can be ascertained and alternative land use scenarios proposed.
The Kalaeloa Master Plan was adopted on March 1, 2006.  Highlights of the Kalaeloa Master Plan include:
3 million square feet of light industrial, commercial, retail and office space
creation of an estimated 7,000 jobs
approximately 6,350 residential units (minimum 30 percent affordable)
transit-oriented development and regional connections
opportunities for high-technology development
alternative energy development to promote self-sufficiency
new public schools
preservation of recreation, open space and shoreline
protection of cultural sites and endangered species through a Native Hawaiian Culture & Education Center
2019 Right of Way project in Kalaeloa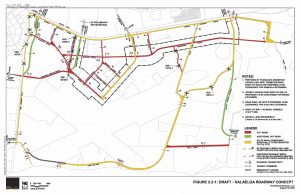 18-029_KALAELOA RIGHT OF WAY (005) 2019 08 06
BRAC Barbers Point Final EIS February 1999