Heeia National Estuarine Research Reserve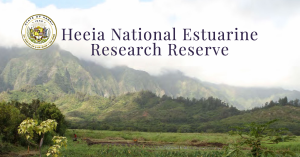 In 2019 Act 166, "Relating to Heeia State Park" was signed in to law. Act 166 delegated the planning process to the Hawaii Community Development Authority (HCDA). Act 166 directs HCDA to develop a Heeia State Park community-based long-range plan for the Heeia NERR.
Heeia Virtual Community Meeting
Wednesday, September 29 at 5:30 to 7:30 p.m.
Join Zoom at this link: https://us06web.zoom.us/j/81621550850
If you are unable to participate but would like to provide input, please email your comments to Catie Cullison at: ccullison@pbrhawaii
If you require special assistance, please contact Catie Cullison at PBR HAWAII: ccullison@pbrhawaii or (808) 521-5631.
Heeia State Park Plan for NERRS Presentation 09.29.2021
Heeia NERR website
Office of Planning and Sustainable Development – HNERR Overview & Management Plan
ACT 166 Relating to Heeia State Park
Background
On January 19, 2017, Heeia was designated the 29th research reserve in the National Estuarine Research Reserve System (NERRS). Located in the Kaneohe Bay estuary on Oahu. It is 1,385 acres and encompasses upland forests, grasslands, wetlands, the fishpond, reefs, and seagrass beds, as well as Kaneohe Bay.

NERRS is a network of 29 estuaries, representing different bio-geographic regions of the United States, that are protected for long-term research, water-quality monitoring, education and coastal stewardship.
This NERR is unique because it was driven by the community, including the Koolaupoko Hawaiian Civic Club, Koolau Foundation, Paepae O Heeia, Kakoo Oiwi, the Department of Land and Natural Resources and Hawaii Community Development Authority.
"The Heeia Reserve recognizes Native Hawaiian and western management science and will use both to study the Kaneohe Bay estuary," said U.S. Sen. Schatz. "The proposed reserve includes a taro loi, managed by Kakoo Oiwi, and a fishpond, managed by Paepae o Heeia, in addition to a portion of Kaneohe Bay and the University of Hawaii's Hawaii Institute of Marine Biology. I am excited to see what we may discover when Native Hawaiian cultural practitioners work with UH's scientists to understand
Heeia."
On August 26 2017, Governor David Y. Ige and Lieutenant Governor Shan S. Tsutsui proclaimed Heeia National Estuarine Research Reserve Day.
Kakoo Oiwi continues to work on the expansion and maintenance of the Heeia Wetlands referred to as hoi. Wetland restoration includes the planting of taro and new crops, restoring historic farm roads and removing invasive species. Approximately 20 acres of additional loi and farm land has been restored to productive agricultural use.
In addition, a mangrove removal project has been initiated through a grant from the National Oceanic Atmospheric Administration. The project has removed approximately 6 acres of invasive mangrove on the mauka and makai sides of Kamehameha Highway. Removal of the mangrove forest will allow the restoration of a key historic road that runs parallel to Kamehameha Highway. This historic road will allow access along the entire makai side of the hoi.