About Kakaako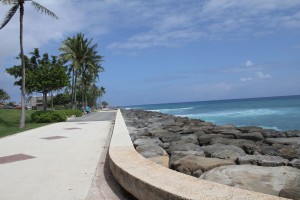 The 600-acre Kakaʻako District is bounded by Piikoi, King, Punchbowl Streets and Ala Moana Boulevard. The District also includes the waterfront area from Kewalo Basin to Forrest Avenue, and the Hawaiian Electric Company power plant site. As a public corporation, the Hawaiʻi Community Development Authority (HCDA) is working to bring together private enterprise and government to make redevelopment happen and to establish Kakaʻako as an economically and socially viable community that can provide a range of public benefits.
The HCDA envisions itself to be the creator and leader to establish Kakaʻako as the most desirable urban place in Hawaii in which people can work, live, visit, learn and play.  Kakaʻako's residents will be able to live in a safe and attractive environment, one with first class facilities for shopping, entertainment, education, culture, and social activities. Housing opportunities are being increased in Kakaʻako, along with parks, open spaces and other recreational facilities. Through Kakaʻako's redevelopment, the State's economy is being enhanced with new business and job opportunities.
The Hawaiʻi Community Development Authority's (HCDA) mission is to ensure that the Kakaʻako District is invigorated and established as a dynamic urban neighborhood, one which will accommodate a mix of people with a wide spectrum of activities and commerce. In doing so, HCDA serves as an infrastructure developer, landowner, city planner, regulator, and property manager to expeditiously implement Kakaʻako's master plan.  To foster a well-balanced and successful living and working environment in Kakaʻako, the HCDA is trying to ensure that its community planning efforts are responsive to the many interests involved. One of the agency's aims is to create an outstanding physical neighborhood which will be known for its environmental excellence, and its active, pedestrian-oriented public realm.
State-of-the art infrastructure and public facilities are being developed by the HCDA to spur new housing opportunities, community facilities, and increase business opportunities. To date the State has invested over $225 million on improvement district projects in Kakaʻako. This major investment demonstrates the State's long-term development commitment to Kakaʻako.
In carrying out its mission, HCDA is contributing to Hawaiʻi's economic development, education, and exposure to the culture and the arts; being sensitive to and supporting existing businesses and residents; and in the process, providing the most livable community and raising standards for new communities throughout the State of Hawaiʻi.