Reserved Housing Rules Amendments
Posted on Mar 29, 2017 in Main
The Authority held two public hearings on the Amendments. Notice was be published in the newspapers of general circulation in all the counties.  All public testimony was be considered.
On June 13, 2018 the Authority approved the Amendments and forwarded them to the governor. The HCDA Kakaako Reserved Housing Rule amendments were signed by Governor Ige on June 28, 2018.
The below information includes the official hearing notice and proposed rules that were considered, testimony, information on the hearings officer, and a timeline of Authority public meetings.
Hearing Notices – June 2018

Testimony
Transcripts
ARCHIVE
2017 and Earlier Reserved Housing Rules Drafts and Hearings
February 2018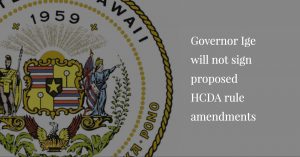 Gov. David Ige will not sign proposed HCDA rule amendments
Hearing Notices – August and September

On September 6, 2017, the Authority approved the 2017 Reserved Housing Rules Proposed Amendments. The Amendments were not approved by Governor Ige.
Transmittal to Governor for Final Approval of the Amendments to HAR Chapter 15-218 Relating to Kakaako Reserved Housing Rules
September 6, 2017
August 16, 2017
July 5, 2017
Hearing Notices – March and May

June 7, 2017
May 31, 2017
May 17, 2017
May 3, 2017
March 28, 2017
Hearing
Testimony
Hearings Officer
Timeline
May 7, 2014
Aug 6, 2014
March 1, 2015
May 6, 2015
Sept. 2, 2015
Feb. 3, 2016
July 6, 2016
Sept. 7, 2016
January 4, 2017
Mar. 1, 2017
Media Coverage of Reserved Housing Rules
(Subscription may be required)
June 2017
May 2017
April 2017
March 2017
February 2017
November 2016
July 2016
May 2016
November 2014
Updated: 2017.07.15