Kakaako Mauka Area Rule Amendments
Kakaako Mauka Area Rule Amendments

The Hawaii Community Development Authority (HCDA) was established by the Hawaii State Legislature in 1976 to plan and redevelop Kakaako and other areas of the state that are in need of renewal, renovation, or improvement.
HCDA's plan and rules provide a framework for planning and development within the Kakaako community development district. The Kakaako Mauka area plan and rules were first adopted in 1982. The next major repeal and replacement of the Mauka area plan and rules came in 2011.
After nearly a decade, the HCDA is embarking on a process of evaluating enhancements to the Mauka Area Rules and possibly amending several of these Rules. Based on a framework of community engagement, HCDA Staff will make recommendations on the possible amendments to the Mauka Area Rules. The goals of the enhancements are to improve the development of a vibrant and resilient Kakaako Community Development District.
In the Community
On May 14, 2022, HCDA was out in the community at the Kakaako Farmers' Market. "We received a lot of positive feedback about providing this opportunity for the community members to vote and have a say on how community benefits are developed in the Mauka Area," said Mark Hakoda, HCDA Program Specialist. "Over 100 people stopped by the booth, and we had many conversations about the upcoming amendments."
• 85 people voted on what community benefits they wanted in Kakaako, by putting a sticker on the boards.
• Approximately 24 people took the survey to get a free bag. Several scanned the code and asked to do it later.
Community Benefits; Voting Results:
• 26 Community Gardens
• 12 Other – Including: Improved sidewalks & pedestrian paths, more open space & parks, food truck space, kid safe bikeways, and permanent farmers' market
• 10 Water Features
• 10 Dog Park
• 8 Public Pavilion
• 8 Play Courts
• 6 Public Parking
• 5 Educational Facilities
HCDA plans to take this community input and look at ways to prioritize potential developer incentives and rule amendments to focus on these requests.
The Survey
The online Community Outreach Survey was open to the public from November 2021 to June 2022.
Here are the HCDA Community Outreach Survey Results
Community Meeting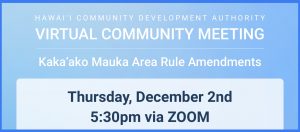 Thursday, December 2, 2021
5:30 pm via ZOOM
On December 2, a virtual meeting was held with an informative discussion on the current Kaka'ako Mauka Area Rules − Ch.15-217, Hawaii Administrative Rules −and the opportunities in which they may be enhanced to better serve Kaka'ako and its surrounding communities.
If you were unable to participate but would like to provide input, we are also accepting written comments. Please email your comments to:  [email protected]
2011 Mauka Area Plan
2011 Mauka Area Rules