Kuilei Place (Moʻiliʻili)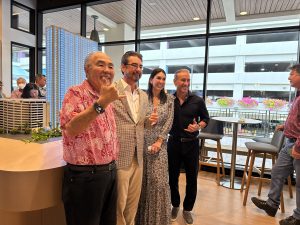 The sales office for the 1,005-unit, moderately priced Kuilei Place complex in Moʻiliʻili opened at the third floor of Ala Moana Centerʻs ewa wing in late February 2022.
Sixty percent of Kuilei Place units are designated as affordable and will be available to households with incomes at or below Honolulu's 140% of area median income (AMI).
The $619 million project's developer is 2599 Kapiolani LLC, a partnership between BlackSand Capital and Kobayashi Group. The complex is being developed in collaboration with HHFDC, which is ensuring that buyers meet Hawaii residency and other requirements.
Kuilei Place, located on Kapiolani Boulevard between Kaimuki and Iolani schools, is expected to break ground in late 2023 and is slated to open in mid-2026. For more information about the project, visit www.kuileiplace.com or call 808-751-2599.